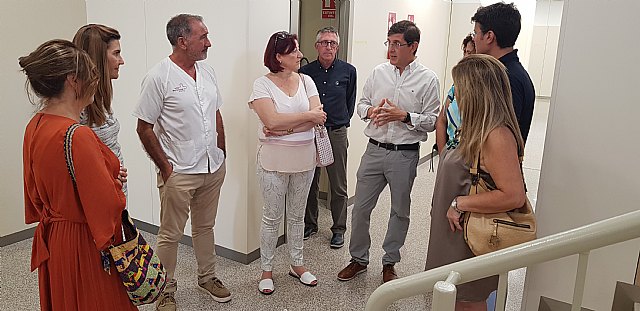 The health center Antonio Garcia de Molina de Segura will start to have three new consultations as of next month, which will expand from 17 to 20 the number of spaces dedicated to medicine and nursing. In addition, it will be equipped with a staff lounge and the waiting rooms and toilets will be improved, as well as the air conditioning system and the fire safety measures will be renewed.
The works have an investment of about 500,000 euros and are included within the provisions of the Action Program for the Promotion and Improvement of Primary Care of the Region of Murcia (PAIMAP). The Minister of Health, Manuel Villegas, visited today the works that are being carried out in the health center.
The person in charge of Health indicated that «a complete reform of the first plant is being carried out», and added that these works «correspond to a second phase of the total reform of the health center, after executing in a first moment the improvements in the plant low».
The Minister of Health said that «we are making important investments that in the coming years will allow 14 municipalities in the Region to have more comprehensive, more modern and more service primary care centers, which will benefit 350,000 people» . Manuel Villegas said that the investment in local health infrastructure is 70 million euros for the next five years.
The building that is being renovated is located within the sanitary center and will occupy a constructed area of ​​630 square meters.
This action allows the reform of the first floor of the center, adapting it to the existing needs and distributing the area in different areas and services. An external evacuation staircase is also planned. Along with these works, the Minister of Health also announced that it is planned to build in this municipality the new center Molina Este, with more than 3.8 million, and the expansion of the office of La Alcayna, with 2.7 million euros.
The Antonio García health center depends on the health area of ​​the Vega Media del Segura, whose reference hospital is the Morales Meseguer. It offers the services of family medicine, pediatrics, nursing, physiotherapy, sample collection, gynecological support unit, midwife and social worker, for which it has a staff of 36 professionals.
The Antonio García de Molina de Segura health center expands with three new consultations