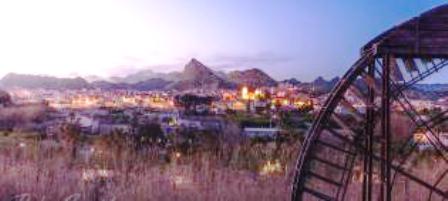 Marisa Pérez / La Opinión
Located in the Ricote Valley, the link between Archena and its thermal waters stands out
Archena: historic, tourist and natural city. Located between the historic Valle de Ricote and the plain formed by the Huerta de Murcia and at a distance of the regional capital of 23 kilometers, it is a privileged place. Its attractions and its connection to the Segura River and its thermal and mineral-medicinal waters make this municipality a unique and desired destination for tourists and visitors.
The tourism sector in Archena encompasses hotel, catering, commerce, industry and health companies. The gastronomy and the friendliness of its people do not go unnoticed by the traveler because, here, eating is much more than sitting at the table: it is enjoying the spectacular products that the land brings us, together with the good work of the professionals doing that the paladares never forget such magnificent culinary experiences of the place, from the vegetables, vegetables or sausages to the magnificent native sweets, so loved and demanded.
In addition, it is a city also open to new technologies, which has already implemented resources such as mobile applications, uses of social networks, online shopping systems and 24-hour tourist information through an intelligent tourism office, working for a better and satisfactory tourist service, which leads us to make Archena a tourist reference at regional and national level.
Heritage, culture, history and nature can be experienced from its museums, religious and civil buildings, urban routes, natural landscapes and water life. All that, and much more, is Archena: the warmth and kindness of its people, the climate, the peace and the mixed turmoil of its streets and squares.
The responsibility of good work and the awareness that it has been done. The mature and young spirit, the feeling in its traditions, the effort of overcoming, its joy and freshness, the love of the land make Archena a municipality that falls in love.