Inaugural speech of the Marian festivities that are celebrated in honor of the Virgin of Health on the occasion of her coronation as Patron of Archena.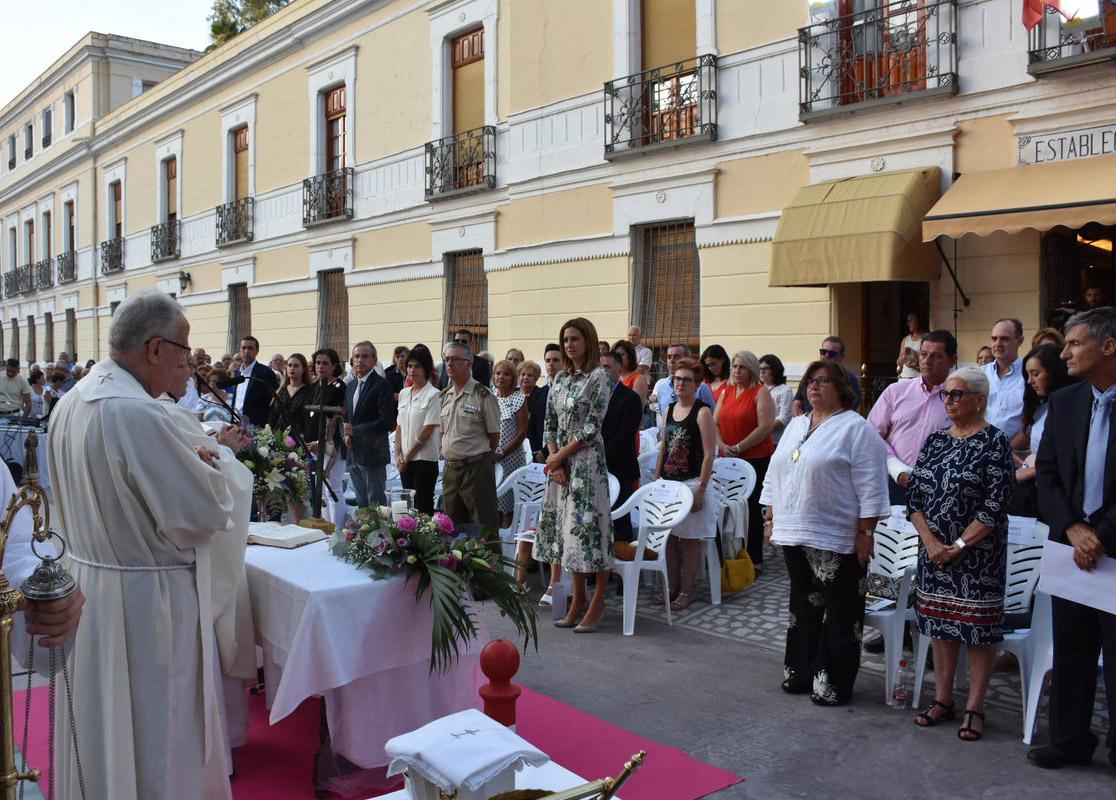 PHOTOGRAPHIC REPORT OF THE BROTHERHOOD OF ANDEROS DE LA VIRGEN DE LA SALUD
About 200 people attended yesterday night in the main square of the gardens of the Balneario de Archena, next to the hermitage-sanctuary of the Patron Saint of Archena, the Virgin of Health, at the opening speech of the Marian festivals that are celebrated in his honor, during this month of September, for her coronation as Patroness.
The announcement was made by the president of the Board of Directors of the archenero thermal establishment, Amelia Isabel Pérez Mézel. The event was attended by the mayor of Archena, Patricia Fernández López, the lieutenant colonel and director of the Military Residence, Fulgencio Parra, who presided over this celebration, and were accompanied by the secretary of the Family Ministry, Manuel-Marcos Sánchez Cervantes, of councilors Archena City Council, responsible for the Spa, representatives of the brotherhoods semanaanteras de Archena and other brotherhoods marianas twinned with that of Health, such as Cieza, Alcantarilla, Blanca and Murcia. The mass was sung by the gang of Fig of Pala of Murcia.
Amelia Perez in his speech highlighted the important relationship that has always had the Employer with the Spa and also reviewed the decisive link of his family with the Virgin and the thermal establishment, it was his grandfather Nicasio who took it and then bought for the year 1942 to the Vizcondes de Rías.
He went on to describe the close relationship between the Virgin of Health and the Spa, where her hermitage sanctuary is located, the patron's headquarters during the year, saying: «Our Lady is acting as protector of this place, because after several floods along the river's avenues, and landslides from the mountain that buried several vehicles, there has never been any loss of life. »
The Brotherhood of Anderos will transfer the Virgin in pilgrimage on the next day 23, to the church of San Juan Bautista, where it will be celebrated, an octave in his honor.
The parishes, brotherhoods and anderos carriers, have organized for these dates some offerings of food and economic aid for the most needy, which will be carried out in the neighborhoods of La Providencia, El Carmen, Las Arboledas, El Hurtado, Los Valientes, Corpus Christi , Los Palacios, Villa Rías, Río Sol, Colonia del Pilar, Los Traqueas, Sanatorium, El Otro Lao and La Algaida. At the end of the octave, the patron will return again in pilgrimage to her hermitage